Resonate with Your Audience and Improve ROI using a CRM for Marketing Campaigns from Quiddity
A CRM or customer relationship management software provides insights into your customers that render your marketing efforts into more meaningful output. This software also intersects with other areas of marketing such as CRM for marketing campaigns. Consumers nowadays are constantly bombarded with all sorts of messages and offer that rise from every corner. Think for a second as to how many times per day do you receive promotional email and how often do you read it?    
With the rapid rise in modern technology and the increasing spread of social media, customers have become more tech-savvy and discerning. They have a wide choice for what they want and are not fed with just anything. And hence the old method of targeting everyone with the same message isn't working any more. There is a rise of highly personalised marketing which is mainly driven by technology and data. As a result, how marketers do their jobs – to increase the interest with a lead generation strategy and multiply the conversions have changed. It is the CRM for marketing campaigns that have helped these marketers stay on top of the game. Your sales team can also leverage many advantages by bringing sales and marketing together with integration of Quiddity CRM with marketing automation tool such as Mailchimp. Such an integration allows users to manage contacts, campaign list, email delivery, take account of bounce email and more.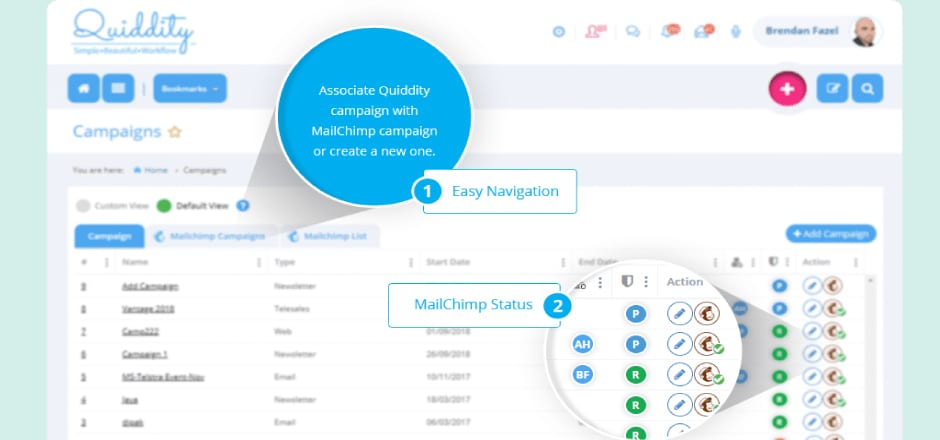 Let's take a look at how Quiddity CRM for marketing campaigns along with Mailchimp can help you create and improve your marketing strategy in certain key areas: 
Effective Segmenting
As it is said those who can predict win rather than those who react. This is very much true for the salespersons as they need to be able to adapt to the latest trends. Segmenting your audience is, therefore, a critical part of any marketing campaign and this is how you can ensure that the handpicked members of your audience would be more receptive to what you are selling. Marketers not only want to segregate the data based on customer's industry, jobs or age but also based on recent activities, responses, likes and dislikes, social media activity, emails opened or replied and more. Hence the best CRM for marketing campaigns should begin with segmentation for the desired results. 
Focused Targeting
With a CRM like Quiddity, marketers can easily sift through all the customer data and contacts and potentially target profitable customers. CRM for marketing campaigns also contains information on customer preferences and behaviour which allows you to take informed actions that not only improve customer satisfaction but also improve the prospect's awareness.
Customised Content
Once you have the segmented list from the database it is time to create personalised emails. CRM for marketing campaigns can help you create interactive emails with individualised messages. Quiddity CRM system also allows you to address your potential customers with their names and provides information on whether you are addressing a man/ woman or ordinary salesperson or top manager. Based on this information you can tailor your content and grab the customer's attention. And the benefit of such personalised content is huge and more likely to gain you an improved response, increased revenue and stronger brand perception. In this way, CRM for marketing campaigns enables experts to focus on the customers and not just the product.  

Recycle the 

Templates

 
Wouldn't it save your time and efforts if you had a tool that can be used again and again instead of starting from scratch every time? With CRM for marketing campaigns, you can analyse whether your campaign was successful and yielded the required results. This takes out the opinions and guesswork and helps you focus only on the campaigns that perform well. And once you have obtained the best performing campaigns you can recycle the same or similar templates for new audiences and contacts. This leads to the lead conversions going up and marketing costs going down. Who doesn't want that?
Detailed Insights
If you are using a CRM for marketing campaigns, then you might as well use it to track the progress of those campaigns. Analytics provided by CRM for marketing campaigns is easy to understand and visually appealing that grasp your attention. Even if you have a major campaign or multiple campaigns running at a time, your software can handle it. From web analytics to analyses you can also obtain detailed reports and compare your campaigns to measure the ROI; Quiddity provides you with a comprehensive picture. 
Concluding Thoughts

 
With CRM for marketing campaigns, you can engage with your customers and prospects on a more personal level and anticipate their wishes or surprise them with what they are interested in. And you can turn this into a two-way dialogue between customers and salesperson.     
All in all, a CRM for marketing campaigns is not only able to provide you with a centralised database but also makes it easy for you to generate meaningful insights from this data and shape it into ideas to target the specific groups that are more likely to respond to your sales pitch.     
Sign up for a 14-day free trial and we will show you how a CRM for marketing campaigns can help you strengthen your customer relationships. 

Brendan works as a Product Manager at Quiddity, an amazing workflow and customer relationship management tool for small businesses. He has a passion for design and problem solving and loves to share knowledge and collaborate with others.