Marketing for Small Business
Running a small business has many challenges. Take control of the marketing aspect of your business with Quiddity's amazing features.
With our simple and intuitive CRM like features, you can manage your marketing campaigns, make record tracking a breeze, track your budget, view conversion rates and generate reports with valuable insights. Quiddity also integrates with MailChimp, so it eliminates the need to keep multiple records across disparate systems.
Make the right decisions with the marketing features of Quiddity and take the guess work out of your business. Keep your marketing process simple and straightforward.

Manage campaign seamlessly
Take the advantage of an intuitive system to help you run your marketing campaigns and achieve your sales goals. Simply decide on your type of campaign, choose your dates and you are all set! Refine your approach and ensure a return on investment by using Quiddity.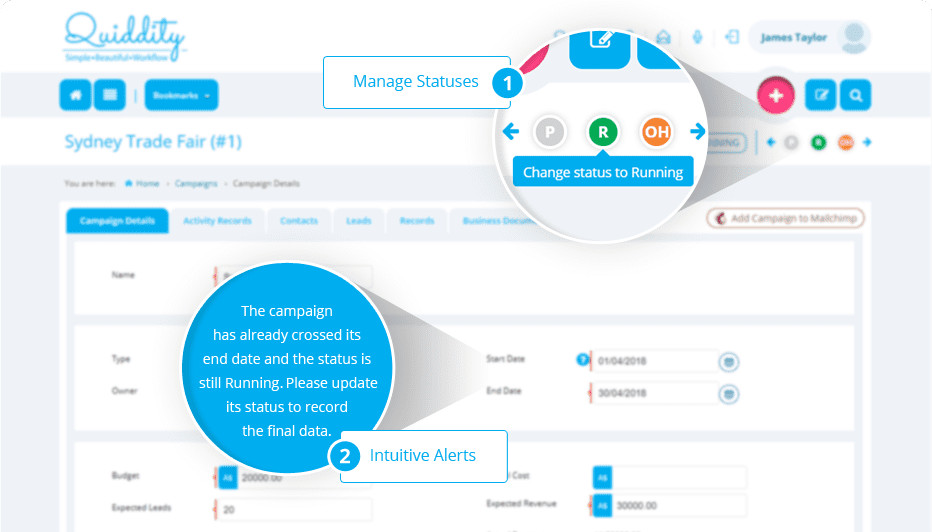 Get complete insight of your campaign
Monitor the expected v/s actual budget, revenue and lead statistics
Know your leads generated through the campaign, its status and cost per lead
Get instant view of the quotes, sales order and invoice generated through the campaign
Review revenue generated through the campaign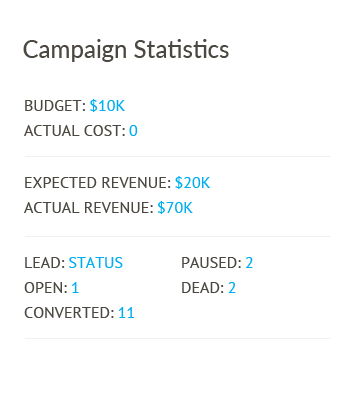 Review snapshot of all campaigns
View all your campaigns and its status in one view with Quiddity's dashboard. Make quick business decisions and tweak your marketing strategies to keep your business profitable.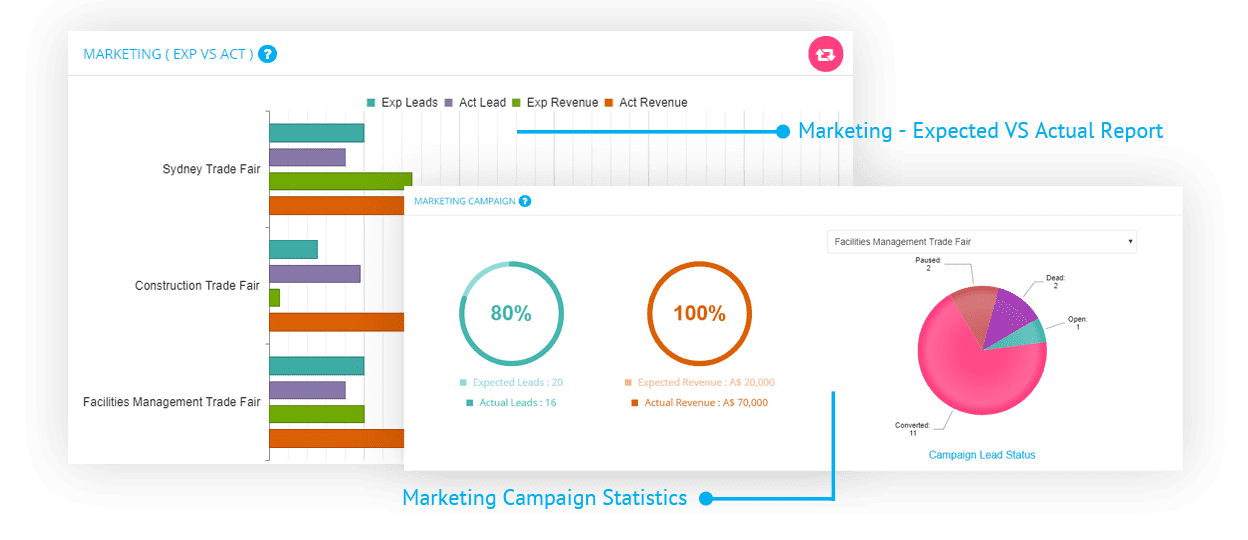 Compare your campaigns
You can compare campaigns against one another to see which gives you better results in terms of leads or revenue.
Know your lead status
You can keep tab of status of all leads of each campaign and know which ones to take forward on priority.
Combine the power of marketing and sales
Quiddity integrates with MailChimp, making it easier to select your target market by keeping all your contacts in one place. Combine MailChimp's powerful email marketing automation with Quiddity and give your business the much-needed agility with drastic improvement in process efficiency.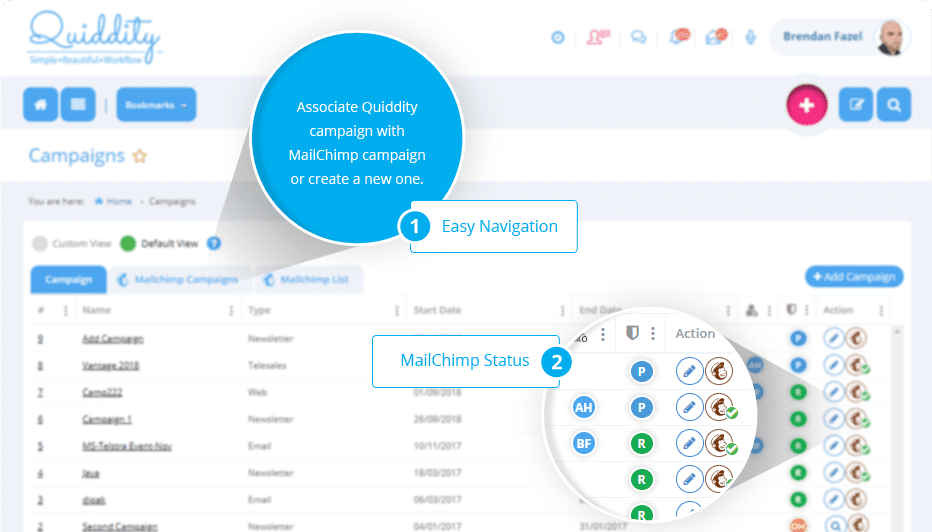 Manage your contacts within Quiddity and MailChimp
Push multiple contacts (contact as well as contact person) from Quiddity to MailChimp with a single click
Manage all your contacts with tags when sent to MailChimp
Gain flexibility of defining your campaigns in MailChimp
Add any new contact directly into MailChimp
Export the campaign associated contacts as CSV and utilise it anywhere, anytime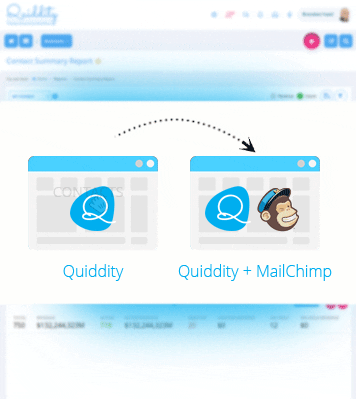 Get instant updates from MailChimp
With instant updates and a high-level view on your campaigns' performance, you are equipped with data that enables you to tweak your MailChimp campaigns for success. Stay on top of the game and improve your marketing activities.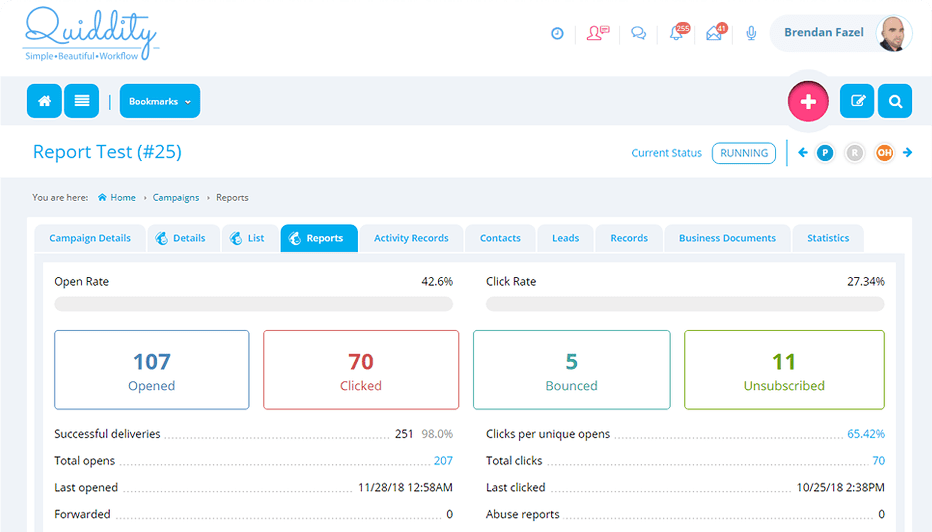 Get real-time reports and insights
Get instant advanced reports of your campaigns and its statistics and take the best decisions for your business. Keep your team's performance at its peak, work with data insights to make smarter marketing decisions and empower your team to achieve more.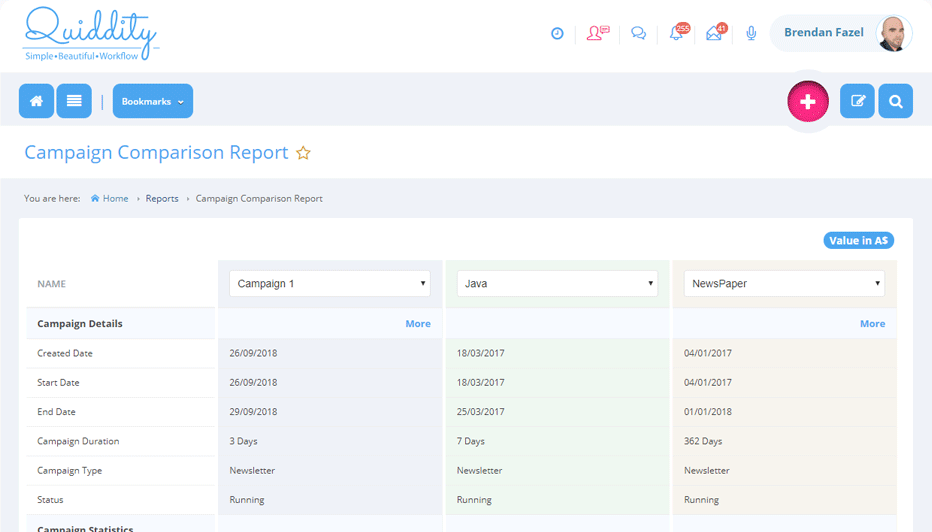 Gain from comparison reports
You can compare reports of multiple campaigns by leads, quotes, SO and invoices using Comparison reports within Quiddity.
View your campaign summary graphically
You can graphically view all your campaigns via type, time, status, leads and revenue.
Create amazing reports
You can create reports based on expected values v/s actuals leads or revenue and filter as per need for better viewing.