Five time management tips for small business owners
"Time isn't the main thing. It's the only thing." – Miles Davis
Every organisation knows the value of money and applies every technique to measure its flow and get a detailed report of every penny coming in or going out. We often see many executives spending hours in preparing balance sheets to monitor the cash flow. However, the funniest part of this whole exercise is that there is not a single mention of the scarcest resource in the entire sheet. I am talking about the most valuable asset of any company "time". In fact, if we measure the importance of time and money, then time is more important since it expires every single second. And, most importantly, time can be used to earn money, but money can't be used to purchase time.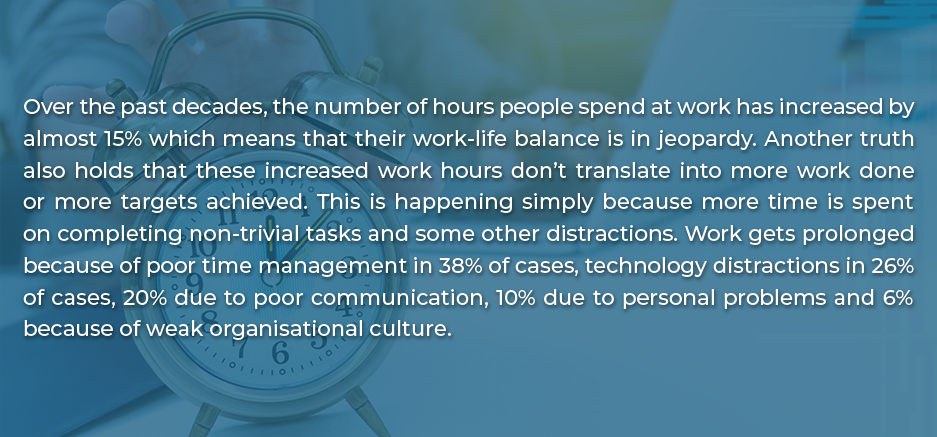 You can motivate your team to manage their time properly by tailoring an amicable working atmosphere for them or invest in a time management system which enables them to closely track the time spent on any task.
Also Read: Impact of organisational culture in small business
Effective time management tips to ensure that you utilise every minute wisely
Whether you are a president of a country, CEO of any company, marketing executive or a freelancer, you need learn the technique of utilising every minute you have at work to its fullest. You can't buy time neither can you borrow it. So be wise and careful while using this scarce resource. Well, we have curated a list of some effective tips that will help you manage and utilise time.

1. Prepare a schedule and follow it religiously
One of the worst things that you can bring to work is an unclear mindset or a list of unprioritised tasks. To start your day on a correct note, you need to prepare an hour by hour structured breakdown of all your tasks. For instance, you can keep Monday for reading emails or preparing a strategy for the entire week, you can call your customers on Tuesday and collect feedback for services offered and so on. You can prepare a To-Do list in Quiddity and mention all your tasks there to avoid wasting time on unnecessary assignments.
2. Delegate and distribute tasks wisely
Apparently, every project has multiple tasks and you can't keep all of them on your plate to ensure quality delivery in a timely manner. Delegate your activities according to the forte of your team members. If you are a very small business and don't have a full-fledged team then consider outsourcing the tasks or roping in some freelancers. Fewer tasks on your To-Do list gives you ample room to focus on the in-hand tasks and ensure superior quality of the deliverable.

3. Log your routine activities in the time management system
Put technology to good use and boost your productivity quotient. You can use the Stopwatch feature of Quiddity to log in all your activities. With this, you can monitor the time spent on any activity. Furthermore, the entry made for any activity is directly logged into your Quiddity timesheet removing the need to remember the completed tasks and the time spent on them. Automation of these activities enables you to give correct figures to your project managers so that they can bill the customer accordingly.
Also Read: Automation of which processes help you improve profit and productivity
4. Eliminate all the workplace distractions
Research by Arbitrue states that an employee gets distracted every 11 minutes from notifications, emails or a help request from a colleague. And, it approximately takes 20 minutes for a human brain to focus on the task again once it is disturbed. The open office design although is most popular right now but it is killing employees' time. To avoid this, you need to devise certain techniques which keeps you away from the distractions and allow you to just focus on your work.
5. Organise your work station
A cluttered desk is also a blow to your highly productive mind. Here, technology comes to your rescue. Update all the required documents in Quiddity and if you want you can tag the same with any contact, enquiry or lead to assure that specifications given by the client are not missed. You can log in all the contact details in Quiddity and ensure that these will never be lost and are easily accessible. Logging all the information whether it is required details of contact, lead or enquiry, adding important documents or keeping a track of all the emails in Quiddity helps you make your desk devoid of any unwanted papers and most importantly you can find the required information at the ease of few clicks without investing much time in it.
The Final Note
We hope that these tips help you with time management and enables you to deliver the assigned tasks in a timely manner even on the most hectic days. If you are looking for a time management software that addresses your concerns such as extraction of precise leave summary reports, approval reports or timesheet entries, then Quiddity is your pick. To explore these features, register for a free trial here.

Brendan works as a Product Manager at Quiddity, an amazing workflow and customer relationship management tool for small businesses. He has a passion for design and problem solving and loves to share knowledge and collaborate with others.