International Women's Day 2018 #PressforProgress: Interview with Aimee Engelmann
With International Women's day approaching on March 8, 2018, Dyean Moodley reached out to some simply amazing and inspiring women that are smashing it in the tech world.
First up in our series is Aimee Engelmann, a 40-year old mum who is smashing goals while maintaining a work/life blend.
Aimee is a business leader who started from scratch operating her first business from her apartment with no capital, a credit card and one customer. Nine years later, Aimee is the CEO of Beepo, her current business and grew the business from 0 to 250 staff in 2 years. With a global team of outsourced professionals, Aimee helps business improve their productivity and business performance. Aimee is a Fellow of the Australian Marketing Institute, Certified Practising Marketer and regularly features as a speaker and spokesperson on outsourcing and offshoring.
1. Tell us a little bit about yourself?
"I'm 40 years old and married with two boys who are 3 and 6. I'm currently the CEO of Beepo which is the third business I founded. Prior to the kick off of my first business, I had 10 years in corporate roles."
2. Tell us about your current business?
"My current business is in the business process outsourcing (BPO) industry. I employ 300 people in the Philippines who are Outsourced on a full-time basis to Australian businesses, for roles such as marketing administration, bookkeeping, accounting, live chat and other support tasks. It has been operational for nearly 4 years. It has been a very steep learning curve operating a business in Asia and going from 15 employees in my last business to hundreds."
3. Share your entrepreneurial journey?
"My journey started about 10 years ago when I left employment in the Telecommunications industry and started a niche marketing business providing Outsourced marketing. I set the business to work in the cloud/remotely using tools like Google Apps, video conferencing and cloud project management tools. This was back in 2008 so it was unique at the time to run a marketing agency 100% remote. I grew the agency and started a second agency brand, then merged them and sold the business in 2015. We had a 100% female workforce and were lucky enough to have a great work life balance, with staff often working around 30 hours a week to balance raising kids, doing great work for clients, and being able to provide superior value for money without huge CBD office overheads."
4. What has been the most challenging part about your entrepreneurial journey?
"Without a doubt it has been balancing a high growth business with kids, pregnancy, and overseas travel. In the year I fell pregnant with my second son, the business grew 164%. It's not work/life balance but work/life blend."
5. What has been the most rewarding?
"The most challenging part of my journey (described above) has also been my most rewarding. Doing the hard yards and making it through the other side. The first 2 years of founding an international business was sink or swim. I have an amazing husband and healthy kids, so for me the greatest reward is to be able to have the freedom and flexibility in my role, so I can spend time as I choose. I work from home, so I can spend more time with the kids when they need me. Two years ago, I left city life for beach life. I live 100m from the ocean and live in a town with one set of traffic lights. So, ten years into my entrepreneurial journey, it's really freedom that is most important to me and the biggest motivator – freedom to spend my time as I choose. I know that sounds very inward focused but that is where I am at right now."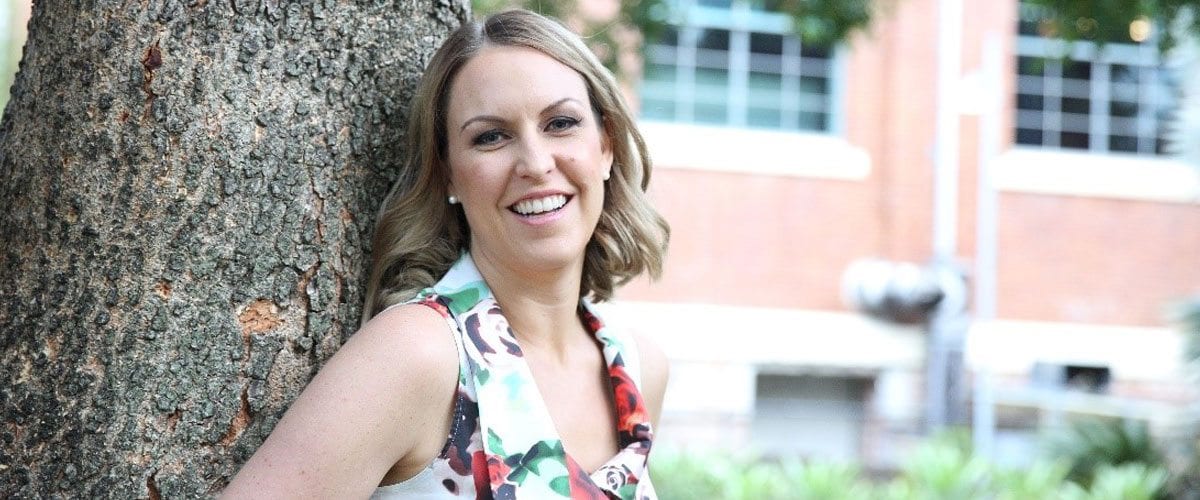 6. Where do you see yourself in the next 5 years?
"Five years is a long time, so who knows? but I do believe that my passion and my background will lead to helping other businesses scale and grow and setting them up for success. I see myself in a combination of consulting, incubating businesses and travelling."
7. How do you motivate yourself?
"I often don't find myself needing to be motivated. I do concentrate on the things that give me and others positive energy which includes being outdoors, exercise, a daily coffee helps but seriously collaborating with amazing people – my team and clients. I have some very innovative clients and I love the partnership that comes with mutual success (and respect). My leadership team run the business day-to-day, so I am generally working in my "zone" which is when I'm working on something I'm passionate about and doing it with people I enjoy working with."
8. Why did you choose your career?
"I didn't "choose" per say to be an entrepreneur or a founder, my career just morphed into what it is now. I guess the leap from employment to a business was driven from feeling unsatisfied being an employee – and feeling I wanted more of a challenge. It's strange, I don't really see myself as having a career anymore, it's more about the opportunities I see and what the future could look like if I was to get involved in any number of opportunities."
9. What advice would you share with business owners gearing up to scale?
"My advice would be firstly, learn how to write a cash flow and to do this weekly. Find someone who already runs a business and does cash flow planning. Learn all the financial implications of growth and work out how you will fund growth first – and then how you will generate the business. My second piece of advice would be to find a mentor's association that will support you. I'm a member of the Entrepreneurs Organisation which has been a huge support system for me and one that I have needed and will continue to need as I grow and scale my business. The third piece of advice is to very quickly focus on the systems in your business to remove yourself from the day to day, or what I like to call "being on the tools". Systems are where you should spend your time – creating systems, training and development of others to essentially get you out of the business (Work on the business, not in the business)."
10. What would you like to be most remembered for in business?
"That's a really good question. For my team I'd like to be remembered as someone who always challenged them to greatness – to bring out their best and build skills they'll take with them forever in life and business. Also, someone who was a positive role model for being in business and not having to stick to the traditional "way"."

Dyean Moodley is the founder of DEVTHA Consulting and an Advisor to Quiddity, She has been listed as one of the top 50 most influential women in accounting globally and mentors female tech founders.